Spin Transfer from Metal to Organic Molecule ~ Milestone towards integrated quantum computing using molecules ~
A research group led by Associate Professor Shinji Miwa at the Institute for Solid State Physics (ISSP), The University of Tokyo reveals that a phthalocyanine molecular film adsorbed on the surface of platinum wire exhibits a spin-Hall magnetoresistance effect. They demonstrates spin-transfer from platinum to magnetic organic molecules. Phthalocyanine is widely used as a blue pigment for road signs and is also known as a high-quality magnetic molecule with spin.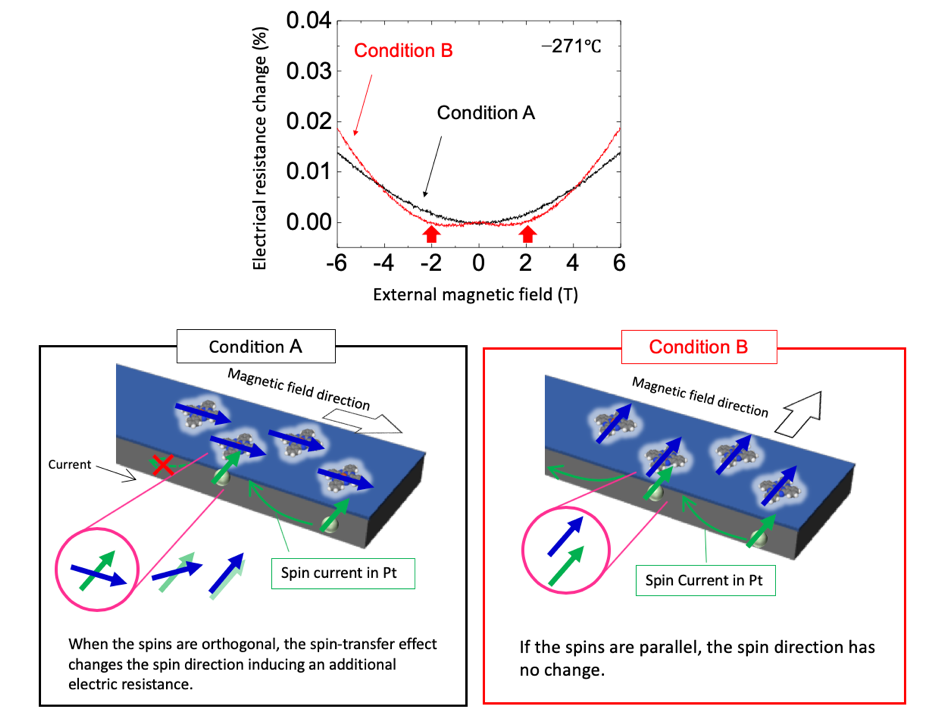 Spin-transfer technology is fundamental part of spintronics research and is the main principle applied to non-volatile memory MRAM. Since MRAM does not require power to maintain information, spintronics has potential to deal with reducing power consumption of IT equipment. Therefore spintronics could be extremely important for global sustainability and help enrich our life.
The research group finds that the spin-transfer effect can be used as spin torque in a molecular system. The spin transfer is known to work with metallic magnets. In this study, they find that it works with organic molecules. Since organic molecules have a sufficiently long coherence retention time, the spin-transfer effect in a molecule may be used as a bit initialization technology for quantum computers. This research result has been published in Nano Letters on December 12, 2019.
Reference
Journal: Nano Letters
Title:Detection of spin-transfer from metal to molecule by magnetoresistance measurement
Authors: Hiromu Gamou, Koki Shimose, Ryoto Enoki, Emi Minamitani, Akitoshi Shiotari, Yoshinori Kotani, Kentaro Toyoki, Tetsuya Nakamura, Yoshiaki Sugimoto, Makoto Kohda, Junsaku Nitta and Shinji Miwa*
(Published on: Monday December 23rd, 2019)