Access
Kashiwa Campus
Kashiwanoha 5-1-5, Kashiwa, Chiba 277-8581 Japan
Neutron Science Laboratory
Shirakata 106-1, Tokai, Ibaraki 319-1106 Japan
Access to NSL, Tokai (Japanese page)
Synchrotron Radiation Lab. ( in SPring-8 ) , Laser and Synchrotron Research Center
1-1-1, Kouto, Sayo-cho, Sayo-gun, Hyogo 679-5198 Japan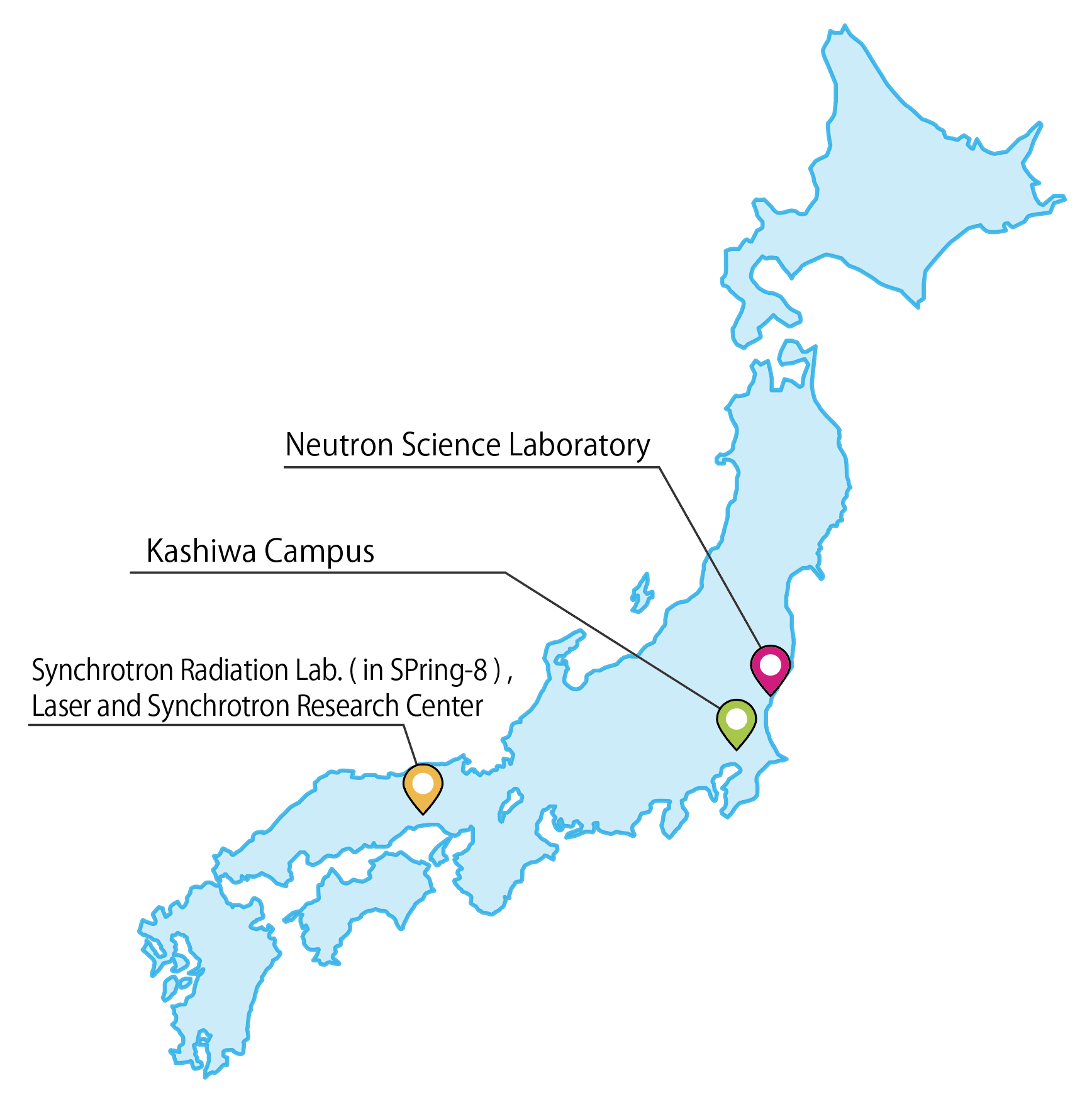 Access to Kashiwa Campus
Kashiwa Campus of the University of Tokyo is 25 minutes away by walk or 10 minutes by local bus from the Kashiwanoha-campus Station of the Tsukuba Express Line.
Multiple routes are available, depending on the departing locations and time. Please set your destination to "ISSP, the University of Tokyo" in your preferred way-finding app and search for the best route or the most updated timetable for public transportation.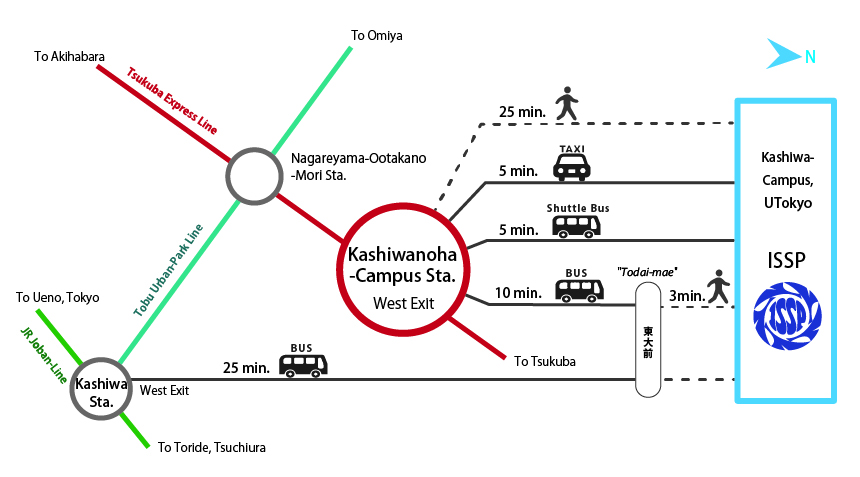 By Shuttle Bus from Kashiwanoha-campus Station
A shuttle bus runs between the Kashiwanoha-campus Station (Tsukuba Express Line) and the Kashiwa Campus. Students and visitors are free of charge. Show your student ID or inform your visiting department. Click here for more information on bus stops and schedules.
By Car from Kashiwa I.C. ( Joban Expressway )
■ Route
Get off at the Kashiwa I.C. for Chiba direction (go right after the toll gate) on to the rout 16. Change to the right lane soon.
Drive 500 meters and turn right at the first traffic light.
Drive 1000 meters, the Kashiwa Campus is on your right side.
From Haneda Airport
Direct Express Bus (Haneda Airport - National Cancer Center or Kashiwanoha-campus Railway Station)
Bus stop: No. 13 bus stop on the 1st floor (for both Terminal 1 and Terminal 2)
Tobu Highway Bus for Kashiwa Station West Exit
Take Tobu Highway Bus bound for Kashiwa Station West Exit. It's about 75 minutes to National Cancer Center. Get off the bus, walk about 7 minutes, or get off at "Kashiwanoha-campus Railway Station", and take a bus (for details, refer to "From Kashiwanoha-campus Station").
By train
Check the best route from the link: Haneda Route Master
From Kashiwanoha-campus Station (railway station), refer to "From Kashiwanoha-campus Station".
Transportation IC Cards
If you are going to use trains to get to the campus, it's convenient to purchase transportation IC cards.
From Narita Airport