Ultrafast Unbalanced Electron Distributions in Quasicrystalline Twisted Bilayer Graphene:Potential Impact on Communication Devices and the Human Environment-
Graphene is a "super material": a carbon monatomic sheet that exhibits excellent properties transferring heat, conducting electricity, and durability. Currently this material is attracting high attention as it is used worldwide to develop applied technology for the next-generation optical devices that perform large-scale information communication, and for high-speed electron movement that conveys information.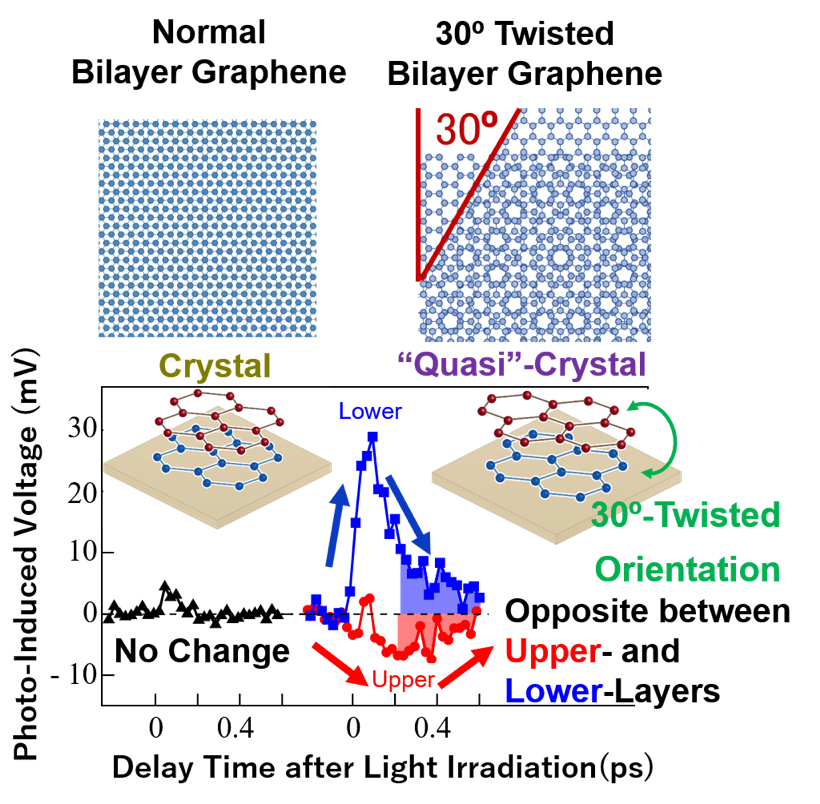 The collaborative research group found that, by superimposing two graphenes "twisted" by 30 degrees, "no mass" electrons moved at ultrafast speed of 0.1 ps (or a picosecond=10-12 sec) with a voltage of 30 mV. This discovery will greatly advance the development of next-generation optical devices.
This finding opens the possibility for virtually zeroing the space-time gap which can contribute to realizing a super-smart sustainable society so that everyone can share a rich, safe and secure life.
The results of this research were achieved by the international joint research group of Project Researcher Takeshi Suzuki, Associate Professor Iwao Matsuda, Associate Professor Kozo Okazaki, and Professor Fumio Komori in the Institute for Solid State Physics at the University of Tokyo, together with Professor Satoru Tanaka in Graduate School of Engineering at Kyushu University, Associate Professor Hirokazu Fukidome at Tohoku University, and Professor Joung Real Ahn at Sungkyunkwan University in Korea. An online version of the research paper was published in the American Chemical Society bulletin "ACS Nano" on October 7th 2019.
Reference
Journal: ACS Nano
Title:"Ultrafast unbalanced electron distributions in quasicrystalline 30° twisted bilayer graphene"
Authors:Takeshi Suzuki, Takushi Iimori, Sung Joon Ahn, Yuhao Zhao, Mari Watanabe, Jiadi Xu, Masami Fujisawa, Teruto Kanai, Nobuhisa Ishii, Jiro Itatani, Kento Suwa, Hirokazu Fukidome, Satoru Tanaka, Joung Real Ahn, Kozo Okazaki, Shik Shin, Fumio Komori, Iwao Matsuda
(Published on: Thursday November 7th, 2019)