Created new artificial rhodopsin protein – Expecting elucidation of neural networks in the deep brain –
Rhodopsins are protein families that work with light energy, transmit visual information in the body of animals and transports ions in the cells of micro-organisms by light. In recent years, application of rhodopsin for optogenetics technology into studies of brain neural circuits with light and medical treatments including visual reproduction both gains high level of public interests.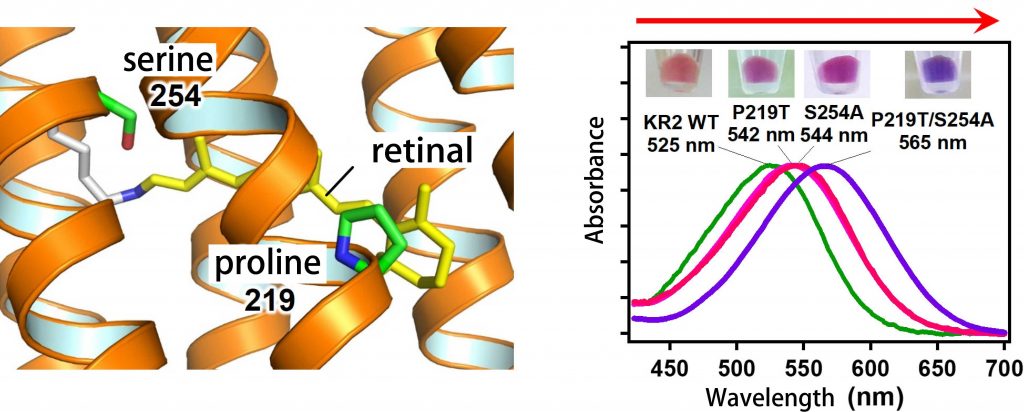 Figure 1: Left: Amino acids (proline 219 and serine 254) in the Na
+
pumping rhodopsin modified in this research.
Right: Photograph of the rhodopsins in E. coli cells showing longer-wavelength absorption, and the absorption spectra of light showing longer-wavelength shift from the wildtype protein respectively.
A new artificial rhodopsin protein that can be manipulated with longer wavelength light than before has been successfully created, by modifying amino acids in sodium pumping rhodopsin. This was achieved by international joint group lead by Associate Professor Keiichi Inoue of the Institute for Solid State Physical at the University of Tokyo and Professor Hideki Kandori of the Department of Life Science and Applied Chemistry at Nagoya Institute of Technology, together with the University of Siena, Italy.
It's been difficult to apply light into deep tissues of animals including humans because their living tissues strongly scatter short-wavelength visible lights. In this study, the research group created a new rhodopsin by modifying amino acids, which absorbs and responds to long-wavelength light with less scattering by biological tissues. With this technique, it will enable to manipulate rhodopsin introduced into deep brain tissue with light. Previous studies on cranial nerve networks were challenging and difficult because short-wavelength lights do not reach into the deep brain. Now this research achievement is strongly expected to elucidating the treatment of psychiatric disorders including depression that is considered to relate how brain works.
A paper describing the research has been published in the UK online science magazine "Nature Communications" dated on April 30, 2019.
Reference:
Journal: Nature Communications10, Article number: 1993 (2019)
Authors:Keiichi Inoue, María del Carmen Marín, Sahoko Tomida, Ryoko Nakamura, Yuta Nakajima, Massimo Olivucci, Hideki Kandori*
(Published on: Monday May 27th, 2019)