Weyl antiferromagnet showing large spontaneous response at room temperature was successfully thinned- Mn3Sn thin film made a significant progress in developing functional antiferromagnetic devices
The Institute for Solid State Physics (ISSP) of the University of Tokyo
The research group has successfully developed an antiferromagnetic Mn3Sn film that spontaneously exhibits a large anomalous hall effect as much as that of ferromagnets at room temperature.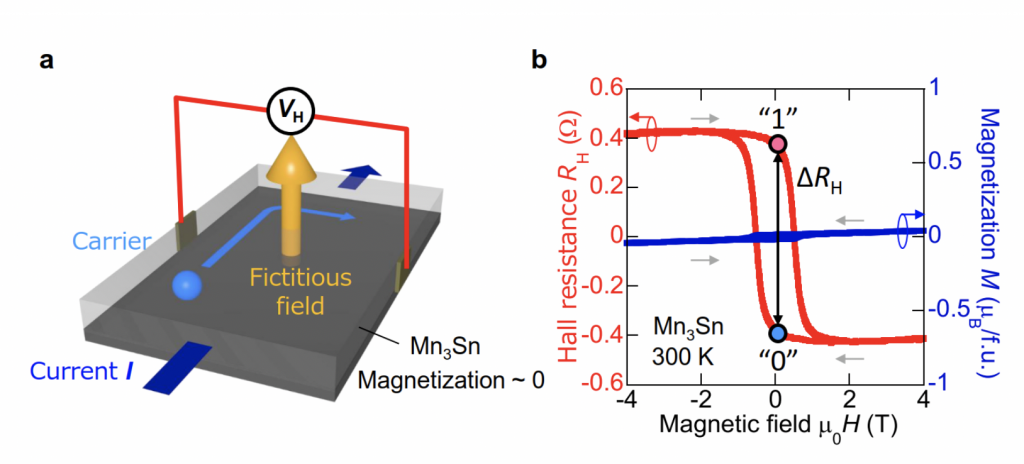 It was achieved by the research group led by Research Fellow Tomoya Higo and Professor Satoru Nakatsuji at the Institute for Solid State Physics (ISSP) of the University of Tokyo in collaboration with Professor Yoshichika Otani at ISSP and Professor Chia-Ling Chien group at Johns Hopkins University.
It's been keenly anticipated to replacing ferromagnetic materials with antiferromagnetic materials due to expectation of higher integration and speed of magnetic devices such as non-volatile magnetic memories. In light of this, the Weyl antiferromagnet Mn3Sn consisting of manganese (Mn) and tin (Sn), originally formulated by Nakatsuji group at ISSP, is one of the highly promising materials. This material has been extensively studied as a "next generation magnetic material" that has both beneficial functions of antiferromagnetic and ferromagnetic materials because large responses such as anomalous hall effect, abnormal Nernst effect, and magneto-optical Kerr effect, which usually only appears with ferromagnetism, now appear with antiferromagnetism under room temperature and zero magnetic field. Moreover, it is controllable by the external magnetic field. The Weyl antiferromagnet was yet only observed with bulk samples and it was required to realize equivalent functionality with thin film samples so that it can be practically used as devices.
This time, the research group succeeded in making a high quality Mn3Sn thin film which shows a large anomalous Hall effect comparable to bulk at room temperature and zero magnetic field on a silicon substrate by using conventional sputtering method. Therefore, the development of magnetic devices such as memory elements and thermoelectric conversion elements using antiferromagnets will be tremendously advanced.
The research paper was selected as "Featured Article" in terms of the scientific importance in the Applied Physics Letter, the journal published by the American Physical Society. The article was released online on November 15, 2018.
Reference
Journal: Applied Physics Letter
Authors:Tomoya Higo, Danru Qu, Yufan Li, C. L. Chien, Yoshichika Otani, and Satoru Nakatsuji
(Published on: Thursday December 13th, 2018)